Contributing to the UN Sustainable Development Goals
Contributing to the UN Sustainable Development Goals
VTB's strategy up to 2022 and the development of the Group's responsible banking practices are integrated into the context of achieving the UN Sustainable Development Goals (SDGs).
VTB's mission, values and vision are aligned with the implementation of all 17 UN Sustainable Development Goals. In 2020, as part of preparations for the development of the VTB Group's Sustainable Development Strategy, a comprehensive analysis of various aspects of VTB's activities and their contribution to the UN SDGs was conducted. As part of this analysis, it was decided to reduce the number of priority goals from 8 to 6 in order to improve the tracking of results for the achievement of these goals and the development of target indicators for the VTB Sustainability Strategy.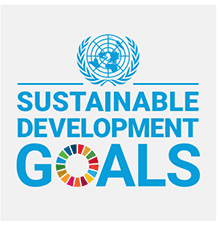 Goal 4:
QUALITY OF
EDUCATION
Goal 8:
DECENT WORK AND
ECONOMIC GROWTH
Objectives:
8.2
8.3
8.4
8.5
8.10
Goal 9:
INDUSTRY,
INNOVATION AND INFRASTRUCTURE
Goal 11:
SUSTAINABLE CITIES
AND COMMUNITIES
Goal 12:
RATIONAL CONSUMPTION
AND PRODUCTION PATTERNS
Objectives:
12.5
12.6
12.7
Goal 15:
TERRESTRIAL
ECOSYSTEMS
Hover and click on the Goal to read more.